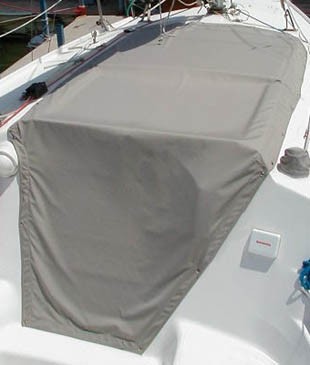 Protect your doors, hatchboards, and slider with fabric covers Hatch boards are infamous for leaking, just as teak is known for losing its luster in weather.
Companionway covers solve both problems by covering doors, hatch boards, and your slider opening with a water-resistant Sunbrella.

If you already have snaps installed on your boat from a previous cover or from a pop-top, we cannot guarantee our cover is designed for those snap locations. You can contact customer service with the dimensions of your existing cover and we can compare to our pattern.

The cover can be made in any Sunbrella color. Please make your color selection below. If you don't see the color you want, select the word "other" and write your color in the comments box on the order form.

If you are installing snap studs on your boat for the first time, the drill bit size you will need is 1/8 in of 9/64 in.