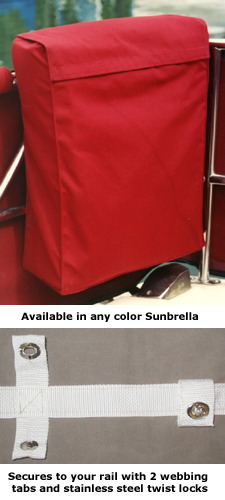 Dress up your Life Sling and your boat.

Is your Life Sling cover ruined from UV rays, or are you tired of that garish yellow color? Now your Life Sling can match the rest of your canvas with this UV-resistant Sunbrella cover. Simply place the original Lifesling bag inside the new one; it has its own attachment flaps. Covers are available in either the standard Lifesling or the Lifesling 2.

How do I know if I have the standard Lifesling or the Lifesling 2? The standard Lifesling is 22"H x 15"W x 6"D and the Lifesling 2 is 22"H x 12.5"W x 5"D.

Covers can be made in any Sunbrella color. If you don't see your color listed below, select "other" from the pull down menu and note the color you want in the comments box on the order form.




We can offer a lower closure for $8 additional, but you'll have to tell us exactly where you want it located.