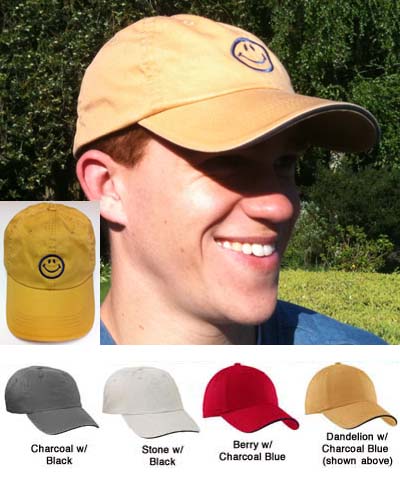 Spread a little cheer!
We know that sailors are a happy crowd and it's time to share some happiness. Our world needs it. The SailboatOwners.com Happy Cap is simple, comfortable, affordable and sure to spread some cheer.

The cap has an unstructured design and curved bill with contrasting color front edge. The back has an adjustable Velcro closure. Made of 100% enzyme washed cotton, it is sturdy, yet not too stiff.



FREE Capsurz Cap Retainer
We know how much this cap will be loved so you'll get a FREE Capsurz Cap Retainer with each cap. The Capsurz is a patented, ingenious device that keeps your cap from flying overboard in the heaviest of winds. The Capsurz can be tightened under your chin by simply moving to small beads apart. When the Capsurz is not in use under your chin, slide the beads together to lengthen the line, place it over the brim of your cap and tighten into place. It sits across the brim of your cap, out of the way.